The History of the Hashtag
---
It's weird to think of a time when Twitter, or the rest of the digital world for that matter, wasn't bombarded with those little slanted noughts and crosses grids.  But the truth is, there really was a time when the mighty Twitter was just a string of texts with no collective association to similar tweets.  What was Twitter ever about then for goodness sake? Best leave that thought for another time…
---
Strictly speaking though, the origin of hashtags (outside the US catalogues – where it was used to signify part numbers and phones – we all recall the 'joy' of automated phone calls, "please enter your reference number, followed by the hash key…") can be traced back to Internet Relay Chat networks (a bit like instant messaging) during the late '80s. Used for similar purposes as today, they were used to group channels or topics.  The first use in social media, however, didn't happen until around two decades – yes, you read that right – later.
In fact, it wasn't until 2007 that the first use of a hashtag (as we know it now) was recorded. 11 years later and hashtags are everywhere; all over social media from Facebook to Instagram and occasionally even popping up in everyday speech (hashtag please don't).
And for that we can be thankful to Chris Messina – ex-Google, ex-Uber and open source advocator.  On the 23rd August 2007, Chris posted the following message on Twitter: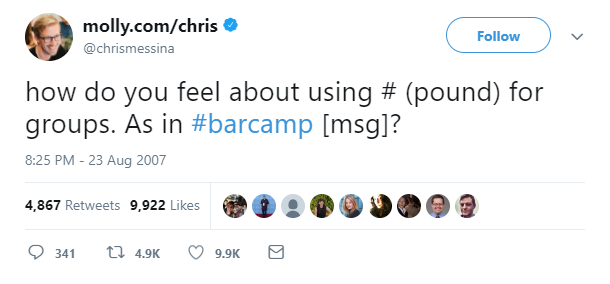 And from there, the hashtag was born. Interestingly though, it took Twitter nearly two years to adopt their use as a way to categorise and access tweets from the Twitter search bar.  During these two years, hashtags were used to spread awareness of forest fires, conferences and were also associated with Obama's 2008 election campaign with #YesWeCan. 
---

Other famous hashtag campaigns since that momentous fateful August day include: #ShareACoke which saw Coca Cola bottles with personalised names on them, #nomakeupselfie by Cancer Research UK, the #icebucketchallenge for the ALS Association, Always' #LikeAGirl and #ThisGirlCan by Sport England.

---
What's noticeable is that the majority of these campaigns have three things in common:
A sense of community for users to get involved in

The ability for customers to make it theirs or generate their own UGC (user-generated content)

And thirdly, they're not limited to social media – they can cross over from your tablet, browser or phone and into your everyday language without appearing out of place.  Somehow, we just can't see #Englandisthebestfootballteamever taking the world by storm … #Englandforthewin, however, just might
Hashtags are not just about tagging or grouping conversations anymore, like they were back in the '80s, or even in the early days of their 2007 reinvention.  Whether we like it or not, those that can find themselves easily rolling off the tongue and into everyday conversations are those that are more likely to succeed as a 'brand'.
---

Funnily enough, the more awareness real brands can get out of their hashtag campaigns outside of social media i.e. the more people talk about the campaign offline, the more interaction and traction they're likely to get with their audience online.  Successful hashtag campaigns, therefore, are not just limited to the digital world and it would be a mistake to think otherwise. 

---
Moral of this history lesson?  Never underestimate the power of that little symbol known as the hashtag.
---
Coussins Associates have been providing outsourced marketing services for over 25 years – yikes! Our clients enjoy the benefits of an easily scalable resource, no fixed costs, no hidden overheads and a team that can not only devise solutions and manage projects, but also take on downstream work such as research, copywriting and design management. All seamlessly integrated to provide a win-win solution – in-house marketing resources with outsourced cost savings.
To find out more about our outsourced marketing services, read more here, or click here to pop us an email.
Share this article: